Gift Shopping around NYU: The best Stores students should check in Greenwich Village
You came to class and just find out that your BFF has a birthday today. In 2 sec you get the idea that today, may be the last day of your friendship! It doesn't matter that just last month you were the best friend who offered her a warm sofa and a cold ice cream after her boyfriend dumped her in his ugly way. Birthday is Birthday. You can't miss it. Unless she's not that important to you and you have your own Ray Ploshansky... :)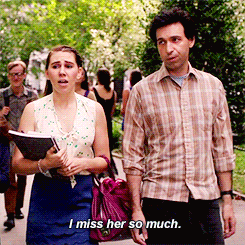 Of course you care about her! For this kind of situations (happens all the time, ha?) you just need to remember the advantages of campus located in the middle of the coolest neighborhood in the city. It's Greenwich Village baby. Just scroll and see what amazing gifts we just found for your friend. We also have a map for you :) Check it out:
Town House - The Affordable option
Cool accessories waiting for you at Town House - which is a nice and warm women's clothing boutique. You can find cool and affordable fashion for your gal. Our favorite is this Star Tassel Scarf. Love the pattern and the fact that it fits perfectly to our stars bag :) What's yours?
Also you can find unique designs - like this asymmetric T-shirt that is perfect for her Spring collection!
Address: 504 West Broadway (on Laguardia Place), New York, NY 10012
See's Candies - The Sweet option
The sweetest option in Greenwich Village! This is a classic situation - when it's really difficult for us to choose the right mix of chocolates. The good news are - it doesn't matter if your choice is Truffles, Nuts or fudge - she's gonna LOVE it. (They "just" making this high quality and delicious chocolate for over 90 years!) If you still need help - try their celebration gifts. This Spring Bliss, for example, is a great option to have it all, and perfectly wrapped! Truly made with love.
Address: 60 West 8th St, Manhattan, NY 10011
Maria Tash - The Stylish option
If your friend has a stylish look at least like Scarlett Johansson or Beyonce, you can definitely surprise her with unique earrings from Maria Tash. Many beautiful designs waiting for you in this store, so it'll be hard not to buy also something for yourself... Here are two options we like, at a minimum budget of $100: The square bar traditional stud, simple and modern design measures 11 millimeters. And also this Chain Wrap Traditional Earstud that wraps around the ear invisibly and looks amazing!
Address: 653 Broadway, New York NY 10012
Click and find more Stylish gift ideas for her
SuperDry - The sportive option
Check this great sportive option near your location in Greenwich Village. You can find there a cool draestring bag like this one, or a nice cardigan like this one. We love the casual look, even if it's not the exam period right now.
Address: 718 Broadway, New York, 10003
AC Gears - The Techy option
If she loves technology, you probably find an exciting gift for her in this store. Ac Gears offers awesome products that are exactly the combination between lifestyle and tech. Anything from headphones, gadgets and mobile accessories with beautiful design - waiting for you right on the shelves. Our favorites: This Mini drone with HD camera (Great idea if she's a vlogger), or this 8Bitdo cube speaker - to enjoy her music on the go...
Address: 69 E. 8th Street, New York City
Gift Shopping around NYU - the map:
Here is the map, so it'll be much more convenient...
And even better than map - You can download our FREE app, and find awesome gifts around your location. Everywhere! Yay!
---
---